Disney Italy Pavilion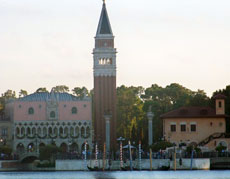 You might think you are in Venice, Italy instead of at the Disney Italy Pavilion when you look out over the World Showcase Lagoon . Gondolas are moored to barbershop striped poles that rise up out of the water in front of the pavilion.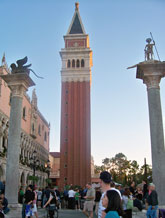 Disney has recreated several famous icons for guests to enjoy. The front of the Disney Italy pavilion resembles that of Saint Mark Square. The tall building that immediately draws your attention is a smaller version of the Campanile bell tower. Even the cypress and olive trees are native to the country.

I have always wanted to visit this country so I like the pavilion at Epcot.



Entertainment
Sergio - is a comedian/juggler who appears in the courtyard most weekdays. His 20 minute show often involves unsuspecting audience members.
World Showcase Players - These are the same performers who do improvisational street skits in the United kingdom.


Food
Tutto Italia - This upscale Italian restaurant is new from 2008. The specialties of the house are pasta, chicken, beef, and pork dishes.
Donkey Cart - This snack cart sells Italian ices, gelato and coffee.



Shopping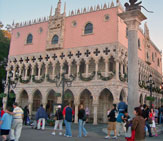 La Bottega - This shop sells made to order Carnival masks, plus ceramics and decorative glass items.
Enoteca Castello - Specializing in both red and white Italian wine, this shop is located in the front of the pavilion. They also sell espresso, chocolate candy, cookbooks, and unique wine bottle stoppers.
Il Bel Cristallo - Here you can find leather goods like purses, wallets, and handbags. They also sell jewelry and perfume.



Kidcot
Kidcot - A Kidcot table is located behind the La Bottega shop.
If you can not find what you are looking for, you can search within our site by using the search box below.
Custom Search
Return from Disney Italy to the World Showcase.

Return Princess and Pirate Family Vacations Home