Theme Park Disney Character Dining Opportunities
Magic Kingdom Disney Character Dining
Cinderella's Royal Table
Cinderella's Royal Table offers a Fairytale Disney Character Dining experience in a storybook setting. This very special character meal takes place inside Cinderella Castle. When guests arrive for breakfast, lunch or dinner in the dining hall, they will receive a royal welcome and a photo session with Cinderella herself.
Included in the price of this Disney character dining experience is one professional Photo Package. If your group consist of up to 4 paying Guests, you will recieve one photo package. Groups of 5 to 8 Guests recieve 2 packages, and groups of 9 to 12 Guests recieve 3 packages for . Each Photo Package includes one 6" x 8" and four 4" x 6" prints, and one 6" x 8" print of Cinderella Castle, which comes in a Cinderella-themed photo holder.
At the Once Upon A Time breakfast guests enjoy a pre-plated all-you-care-to-eat American breakfast with favorites including bacon and eggs, French toast, granola, yogurt and pastries. Disney Princesses visit Guests' tables while you eat your meal.
The Fairy Tale Lunch begins with a surprise appetizer that has been ordered for you by Cinderella. Guests then get to choose a main course, dessert and beverage from a prix fixe menu. Menu options may include pan-seared salmon or pasta al pomodoro for the adults, and chicken strips or other favorites for the kids.
The Dreams Come True Dinner includes your choice of an appetizer and entree selection from the prix fixe menu. Choices might include items like chicken, lamb or vegetarian pasta. The children's menu offers all-time favorites like chicken strips and mini hot dogs and everyone gets their choice of beverage. For a sweet finale, desserts include seasonal crème brûlée and other irresistible treats.
Magic Your Way Plus Dining Plan WILL be accepted at Cinderella's Royal Table but, it requires TWO table service credits. Reservations are required and full payment is expected at the time the reservation is booked. Cancelations must be made at least 24 hours in advance in order to recieve a refund.
A Buffet With Character
The Crystal Palace Character Meal A Buffet With Character features Winnie the Pooh, Tigger, Eeyore and Piglet. They meet and greet you as you enjoy your meal. This buffet restaurant is bright, light filled and spacious. There are windows everywhere with lovely Victorian touches. As you enter, there's a wonderful character topiary in the center featuring your 100 Acre Woods friends.
American cuisine is served on this all-you-can-eat buffet at breakfast, lunch and dinner.
The breakfast buffet includes traditional favorites such as omlettes, breakfast meats, cereals and freshly baked pastries, as well as more unique offerings such as breakfast lasagna and cheddar cheese potatoes.
For lunch and dinner, the buffet overflows with American favorites like prime rib, rotisserie chicken and Atlantic salmon, along with dishes that have a delicious hint of curry, cinnamon, mango and papaya. Desserts tempt you with the likes of red velvet cheesecake, double chocolate brownie, apple cobbler and coconut flan. Or if you prefer, indulge more deeply in the famous sundae bar.
The Crystal Palace's has a separate buffet just for kids. Little ones can fill their plates with fried chicken nuggets, macaroni and cheese, peanut butter and jelly sandwiches, and pizza.
The characters make their way around the room stopping at each table and do an excellant job of palying with the kids and posing for pictures. You can also dance around the restaurant with the characters several times each hour.
Epcot Disney Character Dining
Princess Storybook Dining
The Princess Storybook Dining experience at the Akershus Royal Banquet Hall in Norway is the next best thing to dining at Cinderella's Royal Table in the Magic Kingdom.
Photo courtesy of Cr9245.
Some people even recommend this Disney character dining experience over those that are offered in Cinderella's castle because the atmosphere is more relaxed, the price is cheaper, the reservations easier to obtain.In addition, the princesses spend more time with the guests.
You can feel like royalty while you dine with royalty in Norway's beautiful Banquet Hall. The setting in the banquet hall is regal with its high-beamed ceilings, decorative leaded-glass windows and sweeping archways. The decor makes you feel like you are dining in an actual authentic medieval castle. It is an overall wonderful experice for the little princesses in your group.
Most people avoid this Disney character dining spot because they fear that they will not like the food. I think you will be pleasantly surprised if you decide to give it a try. Breakfast has familiar American favorites while authentic Norwegian cuisine is showcased for lunch and dinner. The menu rotates and buffet selections might include Mustard Glazed Salmon, Sauteed Chicken Breast, Vegetable Stuffed Pasta, and Braised Lamb and Cabbage. Scandinavian dishes might include a special meatball dish made of pork, beef and capers called kjottkaker. The koldtbord usually has a grand selection of prepared salads, sliced meats and cheeses. The children's menu choices are more familiar: pizza, pasta, hot dogs and grilled chicken.
Chip and Dale's Harvest Feast
The Garden Grill restaurant is located in The Land Pavilion in Epcot's Future World. It is host to the Disney character meal known as . The characters that appear at this restaurant include Mickey Mouse, Chip, Dale, and Pluto! These four characters provide plenty of entertainment at this family-style restaurant!
The food is served flamily style on platters at teh Garden Grill, so it's an all-you-can-eat feast you share with your family. Throughout your meal, if you are seated on the inside section of the restaurant, you'll see several of the different scenes from the Living with the Land ride below.
The Dinner Menu available for children ages 3 to 9 includes Chicken nuggets, Macaroni & Cheese, Fresh Vegetables, and a Special Dessert. All meals served with a choice of juice, 1% milk, or bottled water. French fries and soft drinks available upon request.
Adult Menu offerings includes Buttermilk biscuits and yeast rolls with Honey-Orange Blossom Butter, Flank Steak with Mushroom Cabernet au Jus, Rotisserie Turkey with Cranberry Relish, Fried Catfish, Home-style Potato casserole, Selection of Fresh Vegetables, and Very Berry Puff Pastry. Non-alcoholic beverage included.
Some of the meal you'll be served at the Garden Grill will have been grown or created right in the Land Pavilion at Epcot! If you ride Living with the Land or take the Behind the Seeds tour, you'll see some of the places where your food is being cultivated. During the meal, this round restaurant slowly rotates giving guests that are seated in the boothes a view of the scenes from the Living with the Land attraction.
Keep in mind that Future World usually closes at 7pm, so reservations for Garden Grill don't go as late as reservations for restaurants in the World Showcase. This Disney Character requires 1 Table Service Credit if you are participateing in the Dining Plan.
Hollywood Studios Disny Character Dining
Playhouse Disney's Play 'n Dine at Hollywood & Vine Restaurant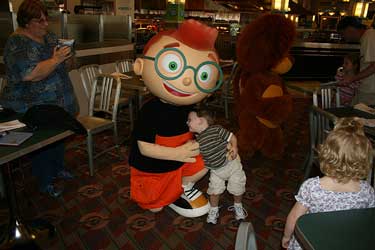 Photo courtesy of jkamp.
Playhouse Disney's Play 'n Dine at Hollywood & Vine Restaurant is a Disney Character Dining experience with breakfast and lunch buffets. Both meals are hosted by popular Characters from Disney Channel's Playhouse Disney shows like JoJo's Circus and Little Einsteins. Guests can sing and dance around with their favorite friends from Playhouse Disney.
This buffet offers a variety of American dishes. At breakfast, you'll find breakfast meats, egg dishes, Mickey waffles, pastries, fruit, and breakfast desserts. For lunch , there is a variety of items such as herb-crusted baked salmon with citrus butter, red pepper pesto multigrain pasta, fresh-roasted meats, and peel-and-eat shrimp and mussels. There's also a kids' section to the buffet with favorites like chicken nuggets and mac and cheese. There is also a variety of desserts including a fun sundae bar.
Animal Kingdom Disney Character Dining
Donald's Safari Breakfast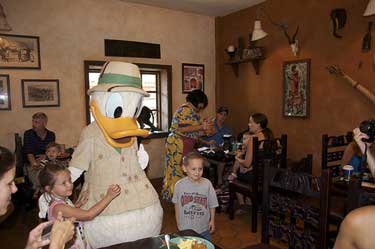 Photo courtesy of ckramer.
Donald's Safari Breakfast buffet takes place at the Tusker House in Disney's Animal Kingdom theme park. It is hosted by Donald Duck and friends. This Disney Character Dining experience will give you the opportunity to start your day in the company of Donald and Daisy Duck. Minnie Mouse and Pluto are often present at for this morning meal as well.
The breakfast buffet includes traditional American food, plus a few unique dishes that have a flavorful African influence. Buffet selections may include familiar items such as Mickey Mouse-shaped waffles, scrambled eggs, sausage and bacon, carved honey-glazed rotisserie ham, frittatas, corned beef hash, oatmeal, cinnamon rolls, danishes and other assorted baked goods. Some other items that might not be as familiar include, cheese blintzes, beef bobotie quiche, yam casserole and porridge.
If you can not find what you are looking for here at disney Character Dining, you can search within our site by using the search box below.
Custom Search
Return from Disney Character Dining to Disney Character Meals

Return to Princess and Pirate Family Vacations Home