Disney's Resort Character Meals
Disney's Beach Club Resort
Goofy's Beach Club Breakfast
Goofy's Beach Club breakfast is one of our favorite character meals. It is located at Disney's Beach Club Resort at the Cape May Cafe. The restaurant has a beach theme, with colorful beach umbrellas and other seashore decorations. The characters at this breakfast buffet include Goofy, Minnie, Donald and Pluto. They are all dressed in bathing suits, to match the restaurant theme.
All of the Disney characters circulate around the dining room stopping at each table to interact with the guests. They playfully engage guests at each table, and pose for photos. The buffet is in the shape of a square with each side featuring different items. The buffet includes breads and pastries, fresh fruit, yogurt, cold cereal, and hot items like breakfast meats, eggs, breakfast pizza, waffles and much more.
This is one of our favorite character breakfasts for sentimental reasons. It was the first Disney character meal that we took our older to when he was only 15 months old. He didn't like the characters much back then but you can tell by the pictures that a lot has changed over the years.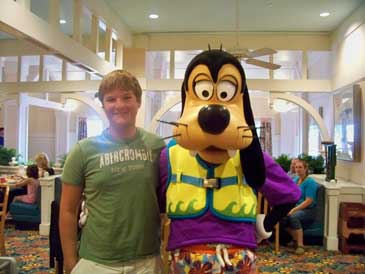 Another reason we like this breakfast buffet is because it is usually pretty easy to obtain a reservation at the last minute. The last time we ate here, we didn't have a reservation at all. We just took a chance and somehow managed to get in with only a 10 minute wait. The food was fresh and hot, the service fast and friendly and the characters were fun.
Disney's Polynesian Resort Character Meal
Ohana's Best Friends Breakfast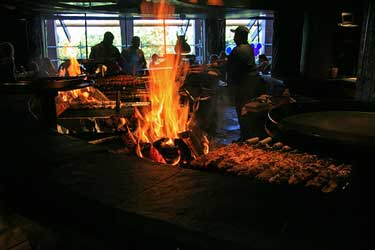 Photo courtesy of rico-fan
Ohana's Best Friends Breakfast with Lilo & Stitch at Disney's Polynesian Resort serves American breakfast favorites with a tropical twist. This character meal is great if you have children who like Lilo and Stitch. The characters interact with guests making them feel like they are all one big happy family. Mickey Mouse and Pluto have also been known to drop in to extend their Polynesian hospitality to you and your family. 'Ohana, in the Hawaiian language, means family.
Menu selections include scrambled eggs, Island-style fried potatoes, Hawaiian pork sausages, smoked bacon and a variety of fresh fruits and breads. To complete the theme of "family," dishes are served family style on platters brought to your table. The Polynesian resort is on the monorail loop so if you are not staying in any of the Magic Kingdom resorts, this would be a great character meal to book on a day that you will be visiting the Magic Kingdom because of the easy access from the park.
Disney's Contemporary Resort Character Meal
Chef Mickey's
Chef Mickey's is located on the fourth floor of Walt Disney World's Contemporary Resort just three stops on the monorail from the Ticket and Transportation Center or one stop after the Magic Kingdom. It's a perfect place to enjoy a character breakfast before a day at the Magic Kingdom or a character dinner after a day at the Magic Kingdom.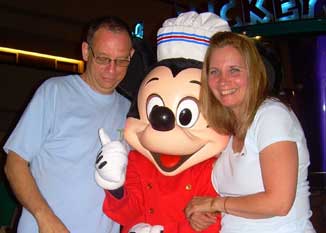 Photo courtesy of abbynormy
Chef Mickey's is meant to be a celebration. It's loud, busy and fun. From the moment you arrive, you'll be swept up into the party. Every twenty minutes or so, a special celebration song comes on and everyone including guests, servers and characters are expected to stop what they're doing and join in the celebration by swinging their napkins over their heads. Kids can get up and dance or jump, and it's perfectly okay. It's a great way to get pumped up for a day at the parks. And of course, it's always fun to watch the monorails pass through the center of the Contemporary Resort while you dine at Chef Mickey's.
The characters that appear at Chef Mickey's include Mickey Mouse, Minnie Mouse, Goofy, Pluto, Chip and Dale and sometimes Donald Duck. They make the rounds from table to table to visit with everyone who dines at Chef Mickey's. Each character is dressed in chef's attire, and they spend time taking pictures and signing autographs as they make their way around the restaurant.
Breakfast includes a premium fruit bar, cereal selections, American classics like pancakes with fun toppings, Mickey Mouse waffles, eggs, omelettes and pastries. Children usually love the Mickey Mouse-shaped waffles, hash brown patties and breakfast pizza which is made with peanut butter and jelly.
Dinner usually offers a variety of meats like roasted chicken and carved beef served with savory sides, salads and a selection of vegetables. There is a nice selection of desserts including a fun sundae bar. This ice cream bar is a big hit with both children and adults.
Disney's Grand Floridian Resort Character Meals
Character Dining at 1900 Park Fare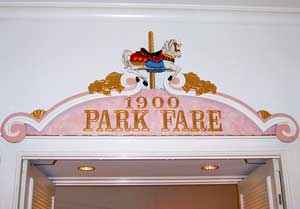 Photo courtesy of Cr9245.
The large 1900 Park Fare dining room is designed to look like a whimsical Victorian seaside resort. The main feature of the room is a fancifully designed organ fondly referred to as Big Bertha. Big Bertha provides musical accompaniment to several character meals take place here each day.
The Supercalifragilistic Breakfast offers an all-you-care-to-eat breakfast buffet that features American-style cuisine that includes custom-made omelets, carved ham, fluffy mini pancakes, Mickey-shaped waffles, strawberry soup, fresh made pastries and much more. Those with a sweet tooth should not miss the Soft Serve Ice Cream, which can be covered with spoonfuls of sugary toppings or fresh fruit.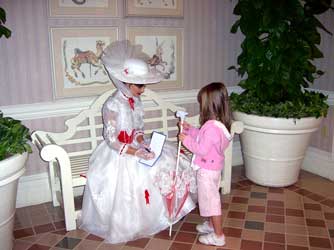 Photo courtesy of Cr9245.
Characters from Mary Poppins and Alice in Wonderland make appearances including the Mad Hatter and other Wonderland friends. All are delighted to pose for photos or sign an autograph book. I have read several reviews that state that this is a wonderful buffet that is a level above the typical breakfast buffet. Because of such reviews, we are planning to eat here on our next trip to Disney. If you would like to offer a review of this or any other character meal, you can do so here.
The Wonderland Tea Party also features Alice and her Wonderland friends. They return for this afternoon tea to entertain guests ages 4-12 for an hour with stories, games and cupcakes. The kids are given cups of a special "tea" to sip. It tastes just like apple juice. Children are kept busy as they "finger paint" designs and add decorations to the tops of cupcakes and then, the best part, they eat the cakes! How sweet is that? If our children were still little, I would certainly sign up for this one because let's face it, who doesn't love to play with their food?
The third Disney character meal that takes place at 1900 Park Fair is the Cinderella's Happily Ever After Dinner. Each evening, Cinderella, Prince Charming and other storybook Characters welcome and interact with guests as they dine on an extensive buffet which includes items such as prime rib, hot and cold seafood, salads, vegetables and bread. The restaurant also offers a children's buffet with hot dogs, hamburgers, pizza, chicken nuggets and Mickey Mouse-shaped macaroni and cheese, a pasta buffet with a large selection of different pastas and sauces, plus a dessert and salad bar. Advanced reservations are recommended for these character meals but it is sometimes possible to walk up at the time you would like to dine and get in without much of a wait. It is worth a try if you decide at the last minute that you would like to dine here, otherwise I would not leave it to chance. I would make a reservation especially since Cinderella and Prince Charming are the characters at this meal.
My Disney Girl's Perfectly Princess Tea Party
This tea party takes place in the Garden View Lounge at Disney's Grand Floridian Resort and is designed for girls 3 to 11 years old. They are encouraged to attend dressed as their favorite Disney Princess. A parent will need to accompany children for this royal event. Your hostess, an enchanted rose called Rose Petal or one of her magical friends, will entertain the princesses with storytelling and songs. As they sip tea, the girls will receive the royal treatment and perhaps a special visit from Princess Aurora or another Disney Princess.
According to Disney's official website, each princess receives a selection of gifts as a keepsake of her storybook morning. The gifts include a special 18-inch My Disney Girl doll dressed in a matching Princess Aurora gown plus accessories and her own ribbon tiara, silver Princess link bracelet, fresh rose, special princess scrapbook page and a "Best Friend" certificate.
Young princes (should a boy's presence by required by the royal court) will receive a princely crown and plush Disney Bear.
The menu includes Garden View specialty tea and a luncheon plate consisting of Grapes, Mixed Berries, Egg Salad Sandwiches, Chicken-Almond Salad Sandwiches, Shrimp Salad Sandwich, Blue Cheese Tart, Smoked Cheddar Cheese, Derby Sage Cheese and Lavosh (a thin flat bread cracker).
Young Royals will be offered Apple Juice "tea" and a luncheon plate consisting of Ham and Cheese sandwich, Peanut Butter and Jelly Hearts, and Grapes.
If you can not find what you are looking for, you can search within our site by using the search box below.
Custom Search
Return from Resort Character Meals to Disney Character Meals

Return to Princess and Pirate Family Vacations Home