The Animal Kingdom Oasis that welcomes you into the Animal Kingdom park might appear to be a mirage after spending a few days in the hot humid Florida weather but, it is truly a little piece of tropical paradise with lush green gardens, waterfalls and exotic birds and animals.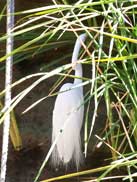 Unfortunately, most people are in such a rush to get to the attractions that they hurry through without a second glance at the beauty of this little spot. This area is worth exploring, so please leave a few minutes in your day to look around. During the hot days of summer the oasis provides a cool, shaded area in which to explore the animals. A good time to come back to this section of the park is in the middle of the day. It is usually crowded in the morning just after the park opens and again in the evening as guests are leaving the park, so plan accordingly.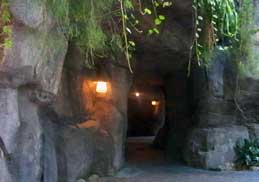 The atmosphere in this area is almost like that of a zoo. It's engaging and peaceful at the same time. The waterfalls and creeks give a feeling of tranquility and the animals are amazing. You might have to search a little to see the animals because some of them blend in the their environment very well. Look closely, they are there.
College interns are usually available in the mornings to answer questions and to show you some cool things up close like spiders and the skulls of small animals. Small hand-held display aquariums are used to contain the spiders and other creatures, so don't panic. If you are interested in asking these cast members questions, make sure you visit this area in the morning because they are usually only available until 11:00 a.m.
All paths from this little section of tropical paradise lead to the bridge that crosses Discovery River. Once you are over the river, you are in the central hub of the park otherwise known as Discovery Island.


Animal Kingdom Oasis Dining
Rainforest Cafe - Continue your wild expedition at this fun restaurant located at the park entrance. The menu offers a wide variety of appetizers, salads, sandwiches, pizza, steaks, ribs and desserts. To eat here is not only a meal but an experience. As members of the Safari Club, our family makes eating at Rainforest Cafe a requirement each trip. Look out for those thunderstorms, though.


Animal Kingdom Oasis Shopping
Outpost - This gift shop is located right outside the entrance to the park for those last minute Animal Kingdom Souvenirs.
Garden Gate Gifts - This is where you can rent strollers. They also sell disposable cameras and film. This shop is where the park's package pickup is located.
If you can not find what you are looking, you can search within our site by using the search box below.
Custom Search
Return from The Animal Kingdom Oasis to the Animal Kingdom

Return from The Animal Kingdom Oasis to Princess and Pirate Family Vacations Home