Animal Kingdom
Discovery Island


The Tree of Life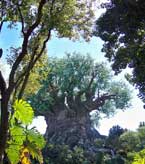 The Tree of Life on Animal Kingdom Discovery Island has become known as the iconic focal point the park as it towers 145 feet above Disney's Animal Kingdom. This man-made tree was imagineered to resemble a African baobob tree. It is 50 feet wide in the middle and spans 160 feet across its canopy. Look carefully and you will see 325 different animals on the prowl, carved into the roots, trunk and branches of this magnificent icon.
Our family likes to see who can find, point out, and name the most animals that are carved into the Tree of Life. It is almost like finding shapes in the clouds: sometimes you see what you think might be an animal but you aren't really sure. Then when you blink your eyes and take another look, you can't find it again. It is a fun game to play and it really makes you appreciate the hard work of the 20 talented craftsmen who worked on this beautiful work of art.
The Tree of Life is not only the most recognizable symbol for the Animal Kingdom, it is where the attraction "It's Tough to be a Bug" is located.


It's Tough to be a Bug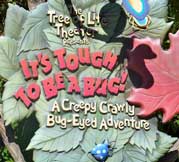 It's Tough to be a Bug is a 8 minute 3D movie hosted by Flik, the friendly ant from Disney's 1998 movie A Bug's Life. Flik explains to the audience that being a bug isn't easy. He goes on to say that bugs face many challenges and, because of this, they have developed many survival techniques to help protect themselves when needed.
Hopper is a big army green grasshopper with an attitude. He rudely interrupts Flik and announces that people should get a taste of their own medicine and be treated the same way that they treat bugs. This is when the 3D effects start. A big hairy tarantula shoots poison quills out into the audience. Not to worry though, you will not feel a thing. But, you will smell the bomb dropped by the stink bug!
Most of the effects are harmless, except for maybe the poke in the back from the bee sting. Younger children under the age of 5 or 6 may not like this attraction very much. When our middle child was much younger, she was very much afraid of any and everything that could fly and possible sting her. So you can only imagine how freaked out she was during this show. Hysterics is the only word that could describe the scene.
Don't get me wrong, this is a fun show. But if the sight of spiders and bugs sets your hair on end, then I suggest you sit this one out. You can spend your time enjoying Discovery Island.

At one point in the show a bee stings you in the back. I put my jacket between the seat and my back so it doesn't surprise me.
Animal Kingdom Discovery Island Trails


The Tree of Life has several walkways or exploration trials around it for guests to get a closer look at the carvings in the tree. Along the paths you will see many real animals, too. Take your time to enjoy the artwork in the tree.






Animal Kingdom Discovery Island Dining
Safari Coffee - Specialty coffee, pastries, fruit and yogurt.
Flame Tree Barbecue - Find a seat and take in the view of the shade covered gardens while enjoying the BBQ pork, chicken or ribs. Sides include baked beans or corn on the cob.
Safari Barbecue - Turkey legs, chicken wings.
Pizzafari - This large counter service area has 680 seats. The menu includes individual pizzas, salads and sandwiches.



Discovery Island Shopping


Beastly Bazaar - This shop carries Disney character safari hats, Animal Kingdom logo clothes and toys.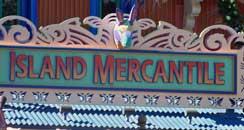 Island Mercantile - Disney souvenirs, candy and character inspired clothes.
Disney Outfitters - clothes for the entire family and souvenirs inspired by nature.
Creature Comforts - This shop is especially for children. They stock lots of toys, hats, costumes and a whole bunch of other stuff.
If you can not find what you are looking for here at Animal Kingdom Discovery Island, you can search within our site by using the search box below.
Custom Search
Return from Animal Kingdom Discovery Island to The Animal Kingdom.

Return from Animal Kingdom Discovery Island to Princess and Pirate Family Vacations Home