Animal Kingdom
DinoLand USA
Animal Kingdom DinoLand USA offers fun activities and rides for the whole family. This area is different from the other sections Disney's Animal Kingdom. It has more of an amusement park or carnival feel to it instead of it being a re=creation of a real place as in other areas of the park. Time spent walking through this section of the park reminds me of taking a road trip across the United States. There are roadside souvenir stands, camping trailers and of course roadside diners. And as in most small towns across America, there is a giant object or tower that displays whatever it is the town is famous for - like a giant peach, peanut or, in the case of Dinoland, it boasts a giant replica of a T-Rex.
The Boneyard
Kids under the age of ten will have a fun time on this dinosaur sized playground located just inside DinoLand USA. They can play on any number of slides, climbing ropes and nets or dig for fossil treasures in a sandy pit. There are several discovery tunnels to explore too. Don't forget to check out the Oldengate Bridge that is made from a dinosaur skeleton. It connects one side of The Boneyard with the other.
Parents should know that this is a good place to let the children play while other members of your family or group go to ride Dinosaur. The one thing that I do not like about this playground is that it is not easy to keep a constant eye on your children. The good thing is that there is only one exit so if you lose sight of your child, keep an eye on the exit to make sure they do not walk out of the playground while looking for you.
Chester and Hester's Dino-Roma!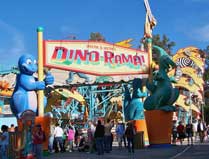 This section of Animal Kingdom DinoLand USA is another good place for young children. This section has two rides, a snack stand and several midway style carnival games. The rides in this area are:


Primeval Whirl - small spinning roller coaster is a wild ride. The ride vehicle is a 1950s brightly colored car or time machine that has a kitchen timer, a radio and an alarm clock for instruments. Your trip back in time takes travelers on a crazy maze of twists, turns and mild drops. It is a fun coaster, but if you are pregnant or prone to motion sickness, you might want to skip this one.

This is a fun ride because it jerks you.

It jerky and fun. Most parents want to sit this one out because it makes them sick.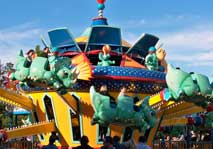 Triceratop Spin - This ride also spins, but it is as mild as Dumbo's Flying Elephants located at the Magic Kingdom. The only difference between this ride and Dumbo is that the lines are nowhere near as long in Animal Kingdom DinoLand USA. There are 16 flying dinosaurs to fly around in and enjoy the fun.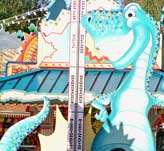 Fossil Fun Games - Dinosaur inspired midway games that give guests the thrill and excitement of playing for and winning prizes. These games are offered at an additional cost.
Dinosaur
Enter into the Dino Institute Discovery Center and prepare to take a very intense journey through time. The director of the institute greets you in the orientation room via video cam. She introduces you to the Time Rover that will be your ride vehicle or your mode of transportation back in time to the Age of the Dinosaurs. She plans on a peaceful visit, but her assistant has other plans. When she finishes her orientation and leaves the room, he changes the settings on the computer to take you back into time to just before the time when giant meteors destroyed the dinosaurs. The purpose of his trip for your group is to find and capture a Iquanodon and bring it back to the present day.
Once you strap yourself into the Time Rover prepare to be taken on a wild ride. You narrowly escape burning meteors and dodge out of the way of angry dinosaurs that want you as a snack. You might just find yourself grabbing onto the edge of your seat in fearful expectation.
When all is said and done, you and your group do indeed escape with your lives back to the present day in DinoLand USA. Young children and some adults who are afraid of the dark and/or of loud noises should skip this adventure.

Dinosaur is cool, but it can give you a little scare.

It is very dark and the ride is bumpy and sometimes scary but I like it. Small kids probably should sit this one out if being in the dark scares them.

I like this ride because it is dark. It makes it easy to scare my family.
Finding Nemo - The Musical
This 30 minute show is a fun retelling of the Disney Pixar 2003 hit movie Finding Nemo. The show uses 18 live performers in various roles to re-create the movie. The entire production is live. Your favorite characters from the movie are represented with costumed singers, dancers and puppet controllers. You will see Dory, Crush, Marlin and of course Nemo. The characters sing and dance as they operate and use puppets.
Performances take place several times each day in the Theater of the Wild. Check a Daily Times and show Guide for current show times.



Dining in Animal Kingdom DinoLand USA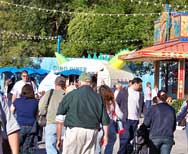 Dino Diner - Hot dogs, popcorn and slushes.
Restaurabtosaurus - This is a large counter service restaurant that serves burgers, hot dogs, salads, and chicken nuggets.
Petrifries - French Fries, cookies, and cold drinks.
Dino-Bite - Churros, pastries, hand dipped ice cream and yogurt.



Shopping in Animal Kingdom DinoLand USA
Chester and Hester's Dinosaur Treasures

- This shop looks like a road side souvenir stand smack dab in the middle of Animal Kingdom DinoLand USA. They sell toy reptiles and dinosaurs of all shapes and sizes. Toys, candy and Disney logo clothes can also be purchased here.
The Dino Institute Shop - All things concerning dinosaurs can be found here including clothes, toys, and books.
If you can not find what you are looking for here at Animal Kingdom DinoLand USA, you can search within our site by using the search box below.
Custom Search
Return from Animal Kingdom DinoLand USA to Animal Kingdom.

Return from Animal Kingdom DinoLand USA to Princess and Pirate Family Vacations Home